The latest Hollywood movie, "Guardians of the Galaxy" dominated the weekend box office earnings as the the film blasted past the expectations of its possible income. Marvel Studios' latest movie flick, featuring Chris Patt, Zoe Zaldana and Filipino-Greek Dave Bautista earned more than $94 million in its debut weekend.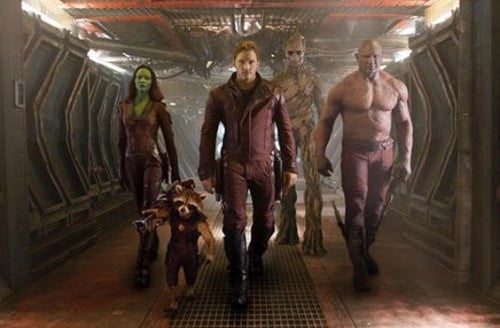 According to international box office analyst, they initially projected that the movie would earn between $60 million and $70 million in North America alone but the movie already exceeds its expectation.
The comic book movie adaptation of "The Guardians" launching gives the movie the biggest opening for a film released in the traditionally low-key month of August. The movie is now the third largest box office opening of the year 2014, coming behind the $95 million inauguration of "Captain America," in April and the $100 million launch of "Transformers: Age of Extinction" in June 2014.
The movie "Guardians of the Galaxy" also features Bradley Cooper and Vin Diesel voicing the computer-generated characters Rocket Raccoon and Groot. The movie written and directed by "Slither" filmaker James Gunn, is under the production of Marvel and distributed by Walt Disney Company. Marvel and Walt Disney even announced that a sequel is already set for release in 2017.
Aside from the North American box office earnings of "Guardians," the movie also hauled in additional $66.4 million from 42 international territories, including Russia, Mexico, Brazil, South Korea, and the United Kingdom, making the film as the first-placer overseas. The movie is also scheduled to be release in Australia, India and Columbia next weekend.
Meanwhile, Here's the Estimated Ticket Sales for Friday Through Sunday at U.S. and Canadian Theaters: (Rentrak)
1. "Guardians of the Galaxy," $94 million ($66.4 million international).
2. "Lucy," $18.3 million ($5.1 million international).
3. "Get on Up," $14 million.
4. "Hercules," $10.7 million ($14.2 million international).
5. "Dawn of the Planet of the Apes," $8.7 million ($47.5 million international).
6. "Planes: Fire & Rescue," $6.4 million ($3.5 million international).
7. "The Purge: Anarchy," $5.5 million ($8.1 million international).
comment(s) for this post ""Guardians of the Galaxy" North American Box Office Income Reaches $94 Million". Tell us what you think abut this post by leaving your comments below.