Ryutaro Nonomura, a Japanese politician became an instant YouTube sensation after his video crying  like a baby trended online as he explains his alleged misused of public funds on Wednesday, July 2, 2014 .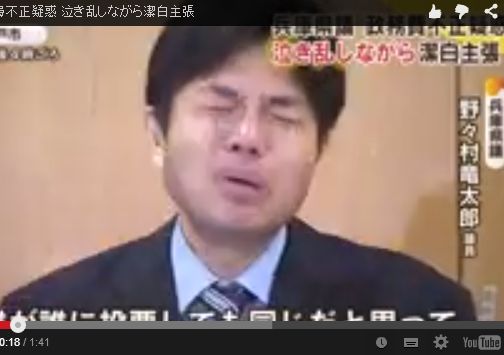 Japan-based television networks were able to capture the breakdown of the 47-year-old provincial politician during his press conference. He was spotted wailing and banging his fists against the desk as he went emotional.
The Japanese politician who was elected as an assembly member in Hyogo in western Japan in 2011 election is suspected on the alleged misuse of public fund worth three million yen or approximately P1,308,300.
According to the source cited by GMA News Online, "he spent the money on 195 trips he made to four locations in one year, including 106 visits to the same hot spring resort, all without producing a receipt or a report."
I finally became an assembly member with the sole purpose of changing society," he emotionally said at his three-hour press conference. "This Japan, I want to change this society, I have staked my life. Don't you understand?" Ryutaro Nonomura added
Here are the reactions of some Twitter users:
"Is he alright as a member of society, let alone a member of an assembly?" Twitter handler @nagatokimura said.

"There was a kid like that when I was in elementary school. A kid who tried to explain by crying like that. lol," @chiko86 noted.
The video featuring the crying Japanese politician has generated a whooping more than 8 million YouTube views as of posting.
https://www.youtube.com/watch?v=t3pZMA5275M#t=2