The fifth division of Sandiganbayan issued the warrant of arrest for Sen. Jinggoy Estrada which was signed on Monday, June 23, 2014. The warrant of arrest issued is in connection with Estrada's plunder and graft charges, the Senator was one of those of who were involved in the controversial "pork barrel" scam.
See Also: Sen. Estrada to Surrender Quietly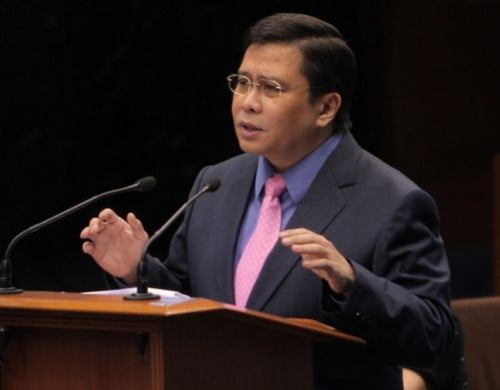 Sen. Jinggoy Estrada's warrant of arrest was release after the anti-graft court found probable cause to hold the Senator on trial for his alleged involvement in the most controversial topic in the Philippines today, the P10-Billion pork barrel issue.
According to the Ombudsman report, on indicting Sen. Jinggoy Estrada, the senator allegedly amassed an estimated amount of P187.795 million in commissions from the year 2004 up to 2012 while serving as a public official from the alleged illegal disbursement of his PDAF.
The 51-year-old Jinggoy Estrada faces one count of a non-bailable offense, a plunder case, together with 11 counts of graft cases. The senator was charged alongside his fellow senators, Sen. Bong Revilla and Sen. Juan Ponce Enrile. The alleged mastermind of the P10-billion PDAF scam is the detained Janet Lim-Napoles.
Sen. Bong Revilla already surrendered on Friday, June 20, 2014 to the anti-graft court on charges filed against him by Sandiganbayan. The Senator is now detained in the country's PNP Headquarters, Camp Crame.
The former movie star, Sen. Jinggoy Estrada is not new with the plunder case as he was previously detained with plunder but later acquitted, alongside his father, the former President and current Manila Mayor, Joseph Estrada.