Former beauty queen Miriam Quiambao and businessman Ardy Roberto Jr. has finally tied the knot following their afternoon garden wedding held at Villa Sommet in Tagaytay on Tuesday, March 25, 2014.
The secret wedding was confirmed by Instagram handler Frank Briones who posted a photo of 38-year-old former Miss Universe 1999 first runner-up on the image-sharing site in her fully-embroidered sleeveless gown with dropwaist silhouette.
Miriam Quiambao, whose divorced from her husband Claudio Rondinelli has tied the knot with Ardy Roberto Jr., whose wife p(–foul word(s) removed–)ed away last year. The couple were engaged last October 2013.
Miriam Quiambao stunned on her Francsil Libiran gown while walking down the aisle with her groom. Ardy Roberto Jr. is the founder of Salt and Light Ventures which promotes and organizes educational events.
Pastor Jonathan Camcam from  the Victory Christian Fellowship is the officiating minister during the wedding and Pastor Joby Soriano of the Christ Commission Fellowship gave his reminder for the newly wed couple about the importance of commitment as a couple.
Related Post: Karylle and Yael Yuzon March 21, 2014 Wedding (Photos)
Gary Valenciano and his wife Angeli Pangilinan-Valenciano, Coney Reyes, Alex and Judy Tinsay, Paolo and Jenny Punzalan, Peter and Christine Kairuz and Vic and Avelynn Garcia and Kata Inocencio are among the principal sponsors in the wedding.
Meanwhile, couple Anthony Pangilinan and Maricel Laxa-Pangilinan were among the veil sponsors during the wedding. Ardy's six-year-old son was the ring bearer while Solana Pangilinan was the flower girl.
Here are some photos of Miriam Quiambao and Ardy Roberto Jr. Wedding: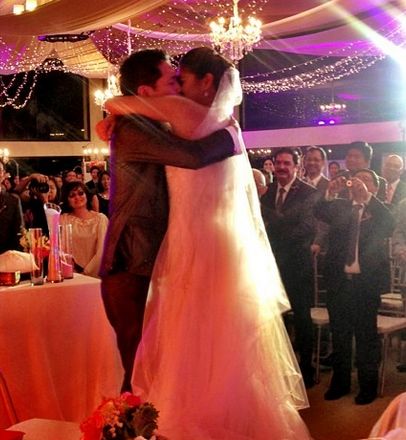 Note: More photos will be added once available.