Another Filipino pride will be seeing action this coming Wednesday in Sochi Olympics, Filipino-Norwegian figure skater Anne Line Gjersem hopes to skate on her way to Olympic victory and make history for Norway.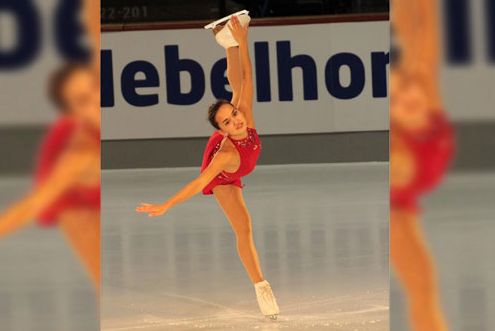 Anne Line Gjersem: Fil-Norwegian figure skater (Photo: ABS-CBNNews)
The 20-year-old Anne Line Gjersem is the first Norwegian and the only figure skater to qualify for her country in an Olympic event after 50 years since 1964. Before that year Norway ruled the figure skating event in the Olympics courtesy of legendary figure skater and three-time gold medalist Sonia Henie during the 1928, 1932 and 1936 games.
The Fil-Norwegian figure skater will be competing in the women's figure skating event on Wednesday, February 19, 2014. Anne Line Gjersem enters the Olympic after she qualified at the Nebelhorn Trophy in Obertsdorf in September, 2013 wherein she placed seventh among other figure skaters from 35 countries.
Anne Line is also a qualifier to the world championship after she placed first in the European Championship. Together with her twin sister Camilla whom she considered as her best supporter and competitor, the two are considered as biggest figure skating stars in Norway.
In 2008-2009, Anne Line debuted in the Junior Grand Prix and Junior World Championships, and took the bronze medal in both the European Youth Olympic Festival and the Nordic Championship.
Anne Line and Camilla Marie were born in Norway to Petter Gjersem, and Filipina Perlina Bangug, who hails from Ilagan, Isabela. The twin figure skaters have been to the Philippines four times.
The Fil-Norwegian figure skater also admitted that she already met with the Philippines lone representative to the Winter Olympics, Michael Christian Martinez at the Nebelhorn Trophy competition last year where they both qualified for the 2014 Winter Olympic Games.