Filipino music icon Freddie Aguilar got married to his 16-year-old girlfriend in an Islamic rites on Friday afternoon, November 22, 2013 at a restaurant in Buluan, Maguindanao. The wedding was officiated by a local cleric, Imam Abdulwahid Sumawang.
Photos of the Muslim wedding of Freddie Aguilar, whose Muslim name is Abdul Farid to his 16-year-old girlfriend were obtained by ABS-CBN News Central Mindanao during the private gathering.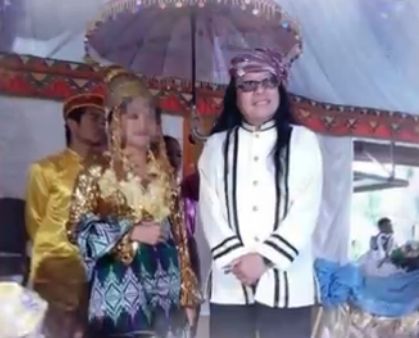 Freddie Aguilar Wedding (Photo: ABS-CBN)
The 60-year-old Freddie Aguilar and his partner Juvy Gatdula Albao performed rituals in accordance with traditional weddings according to
The wedding of Freddie Aguilar who is now known as Abdul Farid, to his 16-year-old girlfriend is in accordance with traditional Muslim weddings which according to one of the principal sponsors.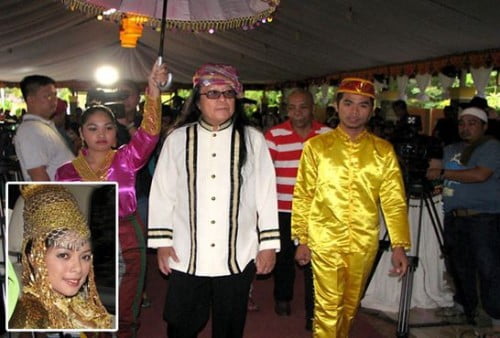 Freddie Aguilar & Judy Albao Wedding (Photo: PhilStar)
Maguindanao Governor Esmael "Toto" Mangudadatu one of the wedding's principal sponsors clarified that Freddie Aguilar was converted to Islam about six months ago before he decided to marry his 16-year-old girlfriend.
During an interview with ABS-CBN News, Mangudadatu explained that under Islamic practices, a couple can marry as soon as the woman has her first menstruation. The Islamic practice is in accordance with Presidential Decree No. 1083, which recognizes the system of Filipino Muslim laws.
The Presidential Decree No. 1083 states that "any Muslim male at least 15 years of age and any Muslim female of the age of puberty or upwards and not suffering from any impediment under the provisions of this Code may contract marriage." The provision further reads: "A female is presumed to have attained puberty upon reaching the age of fifteen."
The "Anak" hitmaker, Freddie Aguilar or Abdul Farid has six children from different relationships with the youngest being 24 years old. Freddie Aguilar's girlfriend is just 16-year-old, she met Freddie Aguilar during an election campaign in Oriental Mindoro.
Watch all the photos captured obtained by ABS-CBN through the link provided below.
Freddie Aguilar & 16-year-old GF Wedding Photos