The depending champion Miami Heat defeated the Chicago Bulls in the opening game of the NBA 2013-2014 Season at the American Airlines Arena, in Miami, Florida with the final score at 107-95.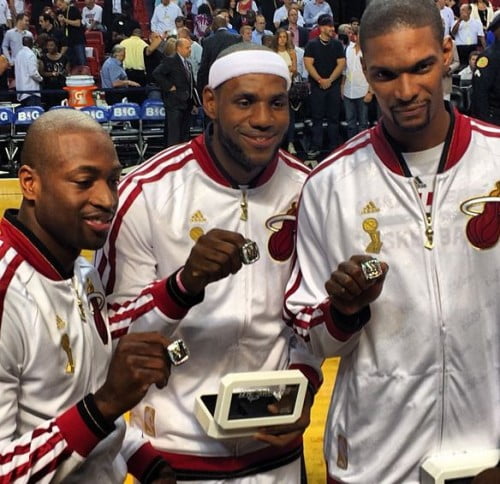 Wade, James and Bosh (Photo: Miami Heat Instagram)
The Heat dominated the first and second quarters of the game although the Bulls rallied in the third and fourth it was not enough to sucure a win, Miami scored 37 points alone in the second quarter while the Bulls managed to score with just 18 points.
NBA MVP LeBron James topscored for Miami with 17 points, six rebounds, eight (–foul word(s) removed–)ists and one steal while Chicago's Carlos Boozer scored with 31 points, seven rebounds, two (–foul word(s) removed–)ists and a steal and a block.
The Heat has a balanced scoring, Chris Bosh scored with 16 points, while Mario Chalmers and Dwyane Wade has 13 points apiece. Shane Batter also added with 14 points while Ray Allen and Morris Cole contributed with 11 points each.
The Bulls relied mostly on Boozer and Jimmy Butler who scored with 20 points. Comebacking superstar Derrick Rose managed to score with just 12 points, Taj Gibson added with 10 points tied with Mike Dunleavy who also scored with 10 markers.
Before the first game of the NBA Season the Miami Heat made a traditional ring ceremony for their 2012-2013 NBA Title. Miami owner Micky Arison and NBA Commissioner David Stern p(–foul word(s) removed–)ed out rings to Heat Staff, coaches and players before tip-off.