The 10th most populous province in the Philippines in terms of registered voters, Iloilo, occupies the southeast portion of Panay Island. Iloilo is better known as one of the sugar producing province in the country aside from the dominant Negros Occidental in terms of sugar production.
Iloilo province is divided into two distinct geographic regions, the Madia-as on the western border and the lowland plains which account for the larger portion of the province.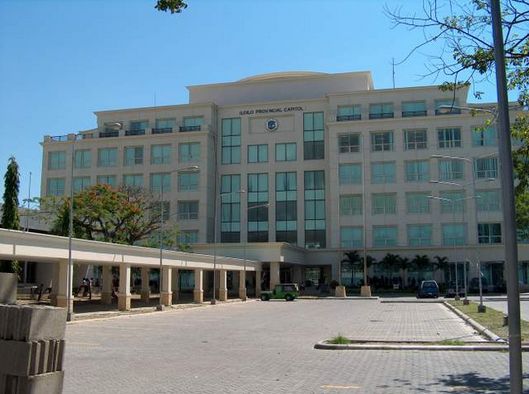 The gubernatorial race in the May 2013 election is currently topped by Arthur Defensor, Sr., who goes up against Ferj Biron of UNA. Defensor is under the Team PNoy banner of the administration.
Here's the Unofficial Results:
Partial unofficial tally as of 2013-05-14 18:16:49 representing 60.45% of the Iloilo Election Returns. (1,446 of 2,392 Election Returns) (622,505 of 1,270,100 Registered Voters)
Iloilo
Provincial Governor
| | | |
| --- | --- | --- |
| DEFENSOR, ARTHUR SR. | LP | 314,621 |
| BIRON, FERJ | UNA/AI | 239,386 |
| CAMPOSANO, TOTO-SERAPIO | IND | 3,687 |
Provincial Vice-Governor
| | | |
| --- | --- | --- |
| TUPAS, BOBOY | LP/UGYON | 322,154 |
| SUPLICO, ROLEX | UNA/AI | 183,467 |
| PANCRUDO, DOMINGO | IND | 4,809 |
Member, House of Representatives – Fifth Legdist
| | | |
| --- | --- | --- |
| TUPAS, JUNJUN | LP/UGYON | 95,194 |
| ROJAS, JETT | UNA | 41,066 |
Member, House of Representatives – First Legdist
| | | |
| --- | --- | --- |
| GARIN, RICHARD | LP | 68,551 |
| FLORES, JULIET | UNA | 28,602 |
Member, House of Representatives – Fourth Legdist
| | | |
| --- | --- | --- |
| BIRON, JUN | UNA | 67,934 |
| TUPAS, NIEL SR. | LP | 65,893 |
Member, House of Representatives – Iloilo City – Lone Legdist
| | | |
| --- | --- | --- |
| TREÑAS, JERRY | LP | 110,339 |
| GONZALEZ, RAUL JR. | UNA | 57,064 |
Member, House of Representatives – Second Legdist
| | | |
| --- | --- | --- |
| GORRICETA, ARCADIO | LP | 36,817 |
| CABALUNA, KITING | IND | 26,741 |
| SYJUCO, AUGUSTO | UNA | 20,274 |
Member, House of Representatives – Third Legdist
| | | |
| --- | --- | --- |
| DEFENSOR, ARTHUR JR. | LP | 88,921 |
| LAVILLA, ROY | UNA | 21,183 |
Member, Sangguniang Panlalawigan – Fifth Provdist
| | | |
| --- | --- | --- |
| TUPAS, NIELO | UGYON | 74,712 |
| SALCEDO, JESUS | UNA/AI | 43,888 |
| VILLANUEVA, TESSIE | LP/UGYON | 39,167 |
Member, Sangguniang Panlalawigan – First Provdist
| | | |
| --- | --- | --- |
| GARIN, NINFA | LP | 59,624 |
| VALENCIA, DENNIS | NPC | 39,287 |
| SIBYA, JM | UNA/AI | 29,311 |
| EZPELETA, PAKIT | UNA/AI | 27,626 |
| CLAVEL, DEREKPERRY | IND | 5,701 |
| CLAVEL, GARRY | LP | 3,886 |
Member, Sangguniang Panlalawigan – Fourth Provdist
| | | |
| --- | --- | --- |
| MONFORT, MITCH | LP | 70,323 |
| FERNANDEZ, TRIXIE | UNA/AI | 47,917 |
| PALMARES-HIDALGO, SHA | UNA/AI | 47,785 |
| CONTE, TOTO | LP | 44,122 |
Member, Sangguniang Panlalawigan – Second Provdist
| | | |
| --- | --- | --- |
| MONDEJAR, JUNE | LP | 41,830 |
| SONZA, DEMY | LP | 32,228 |
| CASTILLO, MARIAN GRACE | UNA/AI | 22,818 |
| SULLANO, MONSIK | UNA/AI | 22,792 |
Member, Sangguniang Panlalawigan – Third Provdist
| | | |
| --- | --- | --- |
| GALLAR, MANNY | LP | 56,123 |
| TIRADOR, LICURGO | LP | 50,086 |
| MALONES, SWEET | UNA/AI | 46,449 |
| LOSBAÑES, NORLENE | UNA/AI | 23,619 |
PhilNews.Ph May 2013 Election Coverage