The Philippines capital city of Manila choose their candidate who will lead them in reclaiming the lost glory and grandeur of the city formerly known as the center of trade and commerce but now the city was surp(–foul word(s) removed–)ed by its neighboring cities and towns.
Mayor Alfredo Lim is running for mayorship for the third straight terms but he faced one of the strongest political force in the country, the former President Joseph "Erap" Estrada.
Related Article: Erap proclaimed as Mayor of Manila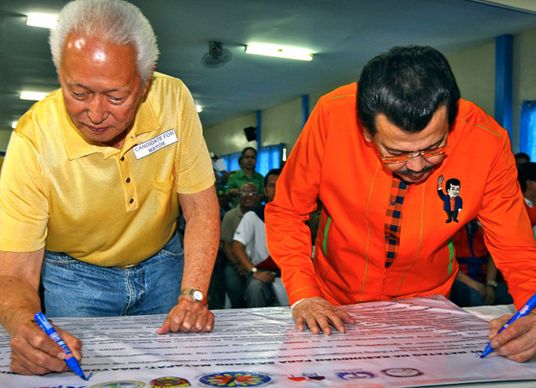 The former mayor of San Juan, Erap Estrada had to transfer his residence to Manila to compete against Mayor Lim. He was joined by Lim's former ally and incumbent Vice-Mayor Isko Moreno while Mayor Lim's running mate is veteran movie star Lou Veloso.
Partial unofficial tally as of 2013-05-14 16:46:55 representing 80.92% of the Manila, NCR Election Returns. (1,175 of 1,452 Election Returns) (563,245 of 953,382 Registered Voters)
Manila, NCR
Mayor
| | | |
| --- | --- | --- |
| ESTRADA EJERCITO, ERAP | UNA | 288,058 |
| LIM, ALFREDO | LP | 257,631 |
Vice-Mayor
| | | |
| --- | --- | --- |
| DOMAGOSO, ISKO | UNA | 329,596 |
| VELOSO, LOU | LP | 196,967 |
Member, Sangguniang Panlungsod – Fifth Dist
| | | |
| --- | --- | --- |
| ATIENZA, ALI | KABAKA | 64,013 |
| HIZON, JOEY III | NP | 58,748 |
| SISCAR, JOSIE | LP | 51,256 |
| YUPANGCO, MON | UNA | 50,203 |
| ISIP, CRISTY | UNA | 50,031 |
| ORTEGA, ROBERT | UNA | 49,695 |
| IBAY, RIC | UNA | 44,474 |
| BORROMEO, RAFAEL | UNA | 38,801 |
| VALBUENA, ERICK | UNA | 32,205 |
| CO, JAIME JR. | LP | 14,355 |
| VILLEGAS, FRANCIS | LP | 14,145 |
| DELA TORRE, JOGRAD | LP | 10,330 |
| TOBILLO, FELIX JR. | IND | 9,909 |
| MANSHAWIE, SAM | LP | 6,836 |
| PERITO, FRED | LP | 4,004 |
| CAPILI, REGINALDO | IND | 3,299 |
| ADRIANO, JAIME | IND | 3,154 |
| CANTILANG, EVA | IND | 2,528 |
| BORCA, DARWIN | IND | 1,454 |
| VILLAROJAS, MARLON | KBL | 1,434 |
| VIDA, VHOY | IND | 1,311 |
| DIMAANO, BOBOT | DPP | 1,235 |
Member, Sangguniang Panlungsod – First Dist
| | | |
| --- | --- | --- |
| DIONISIO, ERNIX | UNA | 76,946 |
| NIEVA, IAN BANZAI | UNA | 70,925 |
| ASILO, KUYA OBET | LP | 60,623 |
| DELA CRUZ, NIÑO | LP | 59,768 |
| ALCOREZA, DENNIS | UNA | 59,309 |
| ALFONSO, IRMA | UNA | 54,619 |
| FAJARDO, JESUS | UNA | 51,821 |
| LIM, MOISES | LP | 46,043 |
| KOA, ARLENE | UNA | 35,874 |
| LIM, CRISTY | IND | 34,379 |
| SY, ROLANDO | LP | 33,908 |
| VENANCIO, JOEY | LP | 24,915 |
| DUMAGAT, NONOY | LP | 14,534 |
| SANDOVAL, FERDIE | IND | 5,462 |
| ARANAS, REJERCITO | IND | 3,314 |
| GARRATE, ROBERT | DPP | 2,028 |
| LANUZA, ED | IND | 1,237 |
| BALBEJA, CRISPIN | IND | 1,113 |
| LONGANILLA, JOEY LLOYD | IND | 1,099 |
| OBEJAS, ALDEN | IND | 814 |
Member, Sangguniang Panlungsod – Fourth Dist
| | | |
| --- | --- | --- |
| REYES, SCIENCE | IND | 40,098 |
| MACEDA, EDWARD | UNA | 37,105 |
| BAGATSING, DJ | UNA | 35,749 |
| QUINTOS, JO | UNA | 34,512 |
| CAPISTRANO, ANTON | LP | 34,191 |
| CHUA, ARLENE | UNA | 31,831 |
| BACANI, KRYSTLE | LP | 31,211 |
| PANGAN, DOCPOKS | UNA | 28,809 |
| CASTRO, GUIA | LP | 26,992 |
| DAVID, BUBOY | NP | 25,924 |
| QUINTOS, BIMBO | LP | 22,004 |
| LIM, ELDORADO | LP | 19,509 |
| VILLANUEVA, JTV | UNA | 16,000 |
| GAMEZ, KABAYANI GERRY | LP | 15,349 |
| TOLENTINO, AMY | IND | 12,043 |
| ABANA, TONY | IND | 1,993 |
| LIM, ALEXANDER | IND | 1,943 |
| SALGADO, VICENTE | IND | 1,419 |
| CONSTANTINO, DEREK | IND | 1,197 |
Member, Sangguniang Panlungsod – Second Dist
| | | |
| --- | --- | --- |
| VALERIANO, ROLAN | UNA | 46,600 |
| BUENAVENTURA, DR.J | UNA | 44,984 |
| LACSON, MARLON | UNA | 44,282 |
| ROBLES, RAMON | UNA | 41,532 |
| LACSAMANA, RODOLFO | LP | 37,365 |
| LIM, NUMERO | UNA | 35,674 |
| VARONA, IVY | LP | 24,059 |
| BUNAG, RUBEN | LP | 20,661 |
| TORNO, RENATO JR. | LP | 19,708 |
| ALIGAYO, LENVICEO | UNA | 18,851 |
| LOPEZ, BOK | LP | 13,377 |
| PANLILIO, CORY | LP | 12,060 |
| FERNANDEZ, ARIEL | IND | 6,773 |
| BULURAN, PEDRO JR. | IND | 1,980 |
| DEL ROSARIO, RENATO | DPP | 1,755 |
Member, Sangguniang Panlungsod – Sixth Dist
| | | |
| --- | --- | --- |
| ABANTE, PRINCESS | IND | 44,082 |
| SISON, C(–foul word(s) removed–)Y | UNA | 42,086 |
| RIVERA, BETH | UNA | 40,027 |
| PAR, JOEL | IND | 39,033 |
| LACUNA, LEI | UNA | 37,504 |
| UY, CHRISTIAN PAUL | LP | 36,391 |
| CASTAÑEDA, CARLOS | IND | 35,401 |
| DAWIS-ASUNCION, JOY | UNA | 29,822 |
| ISIP-GARCIA, BONJAY | IND | 26,717 |
| OCAMPO, CHIKEE | LP | 24,132 |
| VALDEZ, J.R. | UNA | 18,795 |
| LONTOC, RICHARD | LP | 14,928 |
| CUEVAS, DENNIS | LP | 11,233 |
| TIU, KERNEL | LP | 10,809 |
| LOGARTA, JULIO JR. | IND | 8,048 |
| BILLANES, ROMUALDO | LP | 6,945 |
| ASPIRAS, GINA | KKK | 4,522 |
| RELOJ, VALERIANO | IND | 2,780 |
| QUINTOS, EDWARD | IND | 2,531 |
| PLANAS, GEORGE | AMM | 1,385 |
| JAMIAS, SEGUNDINA | IND | 1,126 |
Member, Sangguniang Panlungsod – Third Dist
| | | |
| --- | --- | --- |
| NIETO, YUL SERVO | UNA | 52,353 |
| FUGOSO, MA. ASUNCION | UNA | 48,689 |
| CHUA, JOEL | UNA | 44,084 |
| ANG, BERNIE | UNA | 43,191 |
| ISIP, JONG | UNA | 43,112 |
| ZARCAL, LET LET | UNA | 40,798 |
| LIM, THELMA | LP | 32,771 |
| BARBERS, BINKY | LP | 16,960 |
| LISING, WIILIAM | LP | 12,067 |
| REYES, SEVERINO | LP | 9,156 |
| DECHAVES, JACKSON | LP | 6,276 |
| ABEJAR, JESUS | LP | 6,114 |
| SIA, SALLY | DPP | 4,459 |
| DOMINGO, MARTIN | IND | 3,372 |
| DE GUZMAN, ANTHONY | IND | 3,012 |
| CHICO, ALBERTO | IND | 2,394 |
Update: As of 11:30 AM (May 14, 2013)
Here's the winner of the Manila Local Election: (Winners' in bold typeface)
Partial Unofficial Tally:
Manila Mayor: Joseph Ejercito Estrada
1. Ejercito Estrada (UNA) ———-255,594
2. Alfredo Lim (LP) —————– 229,106
Vice Mayor:
1. Isko Domagoso (UNA) ———- 292,018
2. Lou Veloso (KKK/LP) ———– 175,709