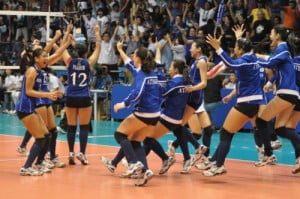 Ateneo de Manila Women's Volleyball team takes the game one of UAAP Season 74 Women's Volleyball finals against the defending champion De La Salle Lady Spikers.
An amazing clash happened in San Juan Arena Last Wednesday as the two best teams this season face-off in the finals trying to win the crown.
Despite the advantage of Lady Spikers over the Ateneo with thrice to beat record in the finals, Lady Eagles had fought to their best and was able to surp(–foul word(s) removed–) De La Salle claiming the first game.
The game reached to four sets and ended with scores of 23-25, 28-26, 25-23 and 25-17 in favor of Ateneo.
Lady Eagles Rookie player Alyssa Valdez said that this win would definitely make a big impact to their team especially when it comes to their self confidence in the court.
This is the first time again that the Lady Eagles were able to make it to the finals of UAAP Women's Volleyball and with the performance that they have showed earlier proves that they definitely came to win the crown.
On the first set of the game, La Salle made a big lead advantage against Ateneo as nervousness has seen over the players of the Lady Eagles.
Later on in the succeeding sets, the team became more comfortable on the court and penetrated over the defense of La Salle. Veteran player Cainglit played a major role in the second set as she gave the first lead of the team and later on won the set.
On the third set Valdez and Gervacio came to the rescue as they gave their best and kill several attacks and leading the team to their second set win.
This victory of Ateneo leaves both teams needing to win two games in order to claim the crown this season.