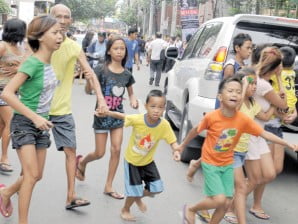 In a report posted in inquirer.net, they have confirmed that at least 52 people were already reported dead after the 6.9 magnitude earthquake have strike the province of Negros and Cebu.
The quake that lasted for 30 seconds has made the residents living the affected area to panic seeing the roads cracking and buildings shaking violently.
Officials said that seven bridges have suffered cracks while a three story building has collapsed.
One of the cause of death toll in the region was landslide specifically in Guinhulngan City in Negros Oriental that killed at least 29 people and it is expected that the number of death toll will rise as officials continue to search in other barangays that were buried under a 30 ft. soil.
A 9 year-old girl was also a victim of the tremor after she was hit by a collapsed wall in Tayasan.
After hearing the news, Malacañang have ordered the Provincial Disaster Risk Reduction and Management Council to work on estimating the damaged caused by the quake and provide the necessities to the residents who were affected.
In Cebu, people started to panic due to the announcement made in the radio that there is a tsunami alert but the PHIVOLCS have cleared that they have raised the warning for the residents living near the coastal areas to watch out with the movements of the wave and not to evacuate from the area.
US Geological Survey said that the Earthquake in Province of Negros and Cebu started around 11:49 a.m which originated 44 miles North of Dumaguete, 45 miles West North West of Tagbilaran, Bohol and 49 miles West South West of Cebu.