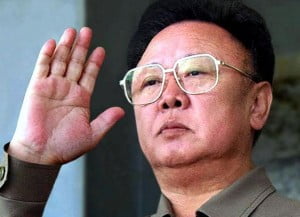 North Korea, the Hermit Kingdom and one of the world's most dangerous communist country had lost its enigmatic leader Kim Jong Il after the leader suffered a heart attack and died at the age of 69. State Media reported that the leader died in a train while visiting an area outside the capital.
Kim Jong Il died at around 8:30 AM (Korean Time) Saturday. With the death of the communist leader, he will be succeeded by his third son Kim Jong Un who were believed to be at his 20's. His son have been designated as a four star general.
The communist leader Kim Jong Il rose to prominent after his vocal continuation of Nuclear development which was being sanctioned by the international organizations. The leadership style of Kim Jong Il have put the Korean peninsula largely at war.
After the announcement of his death the state media was quoted as saying that "All party members, military men and the public should faithfully follow the leadership of comrade Kim Jong-un and protect and further strengthen the unified front of the party, military and the public," KCNA stated.
The reclusive North Korean leader was reportedly suffering from heart ailment since 2008 wherein he suffered a stroke and since then he minimize his public appearance and put more power to his future successor and son Kim Jong Un.
The North Korean situation were (–foul word(s) removed–)sed by international organizations that with the death of its leader the country were put on an uncertain situation. North Korea were having problem with its malnourished population.
The international sanction is a thing to consider and the people's ignorance of the outside world will put more pressure to the successor of the communist North Korea. The North Korean Army which is considered as one of the world's largest army is a hard tasked to lead for the young Kim.
The funeral of the North Korean leader will be held on December 28, 2011 and the national mourning will be extended until the next day December 29.