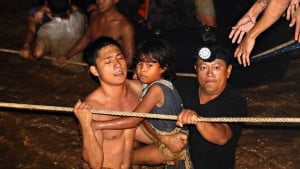 Tropical Storm Washi brought about heavy rains and strong winds in the cities of Cagayan de Oro City and Iligan City which causes the deaths of more than 200 people. Worst affected areas were surprised with the heavy downpour and uncontrollable conditions that swamped the cities.
An estimated 400 people were still missing and unaccounted for after a flash floods ravaged the southern part of the Philippine archipelago. The tropical storm were packed with a maximum winds of 47 miles (75 kilometers) per hour and gusts of up to 56 mph (90 kph).
Washi was the 19th storm to hit the Philippines this year. The country is devastated normally with an estimated total of more than 20 storms annually. Residents in the northern and eastern part of the Philippine archipelago were the normal pathway of the storm.
It is unusual that storms were p(–foul word(s) removed–)ing through the southern parts of the Philippines. One of the reasons why the death tolls rises was due to the complacency of people who were not listening to the calls of the government authorities concerned regarding early evacuation.
According to the military figures there were 107 people died in Cagayan de Oro City alone as stated by Councilor Alvin Bacal. Mayor Lawrence Cruz of Iligan City have reported also that the city of Iligan suffered with 79 bodies recovered.
Military spokesman Lt. Randolph Cabangbang said that there were 250 people in Iligan City alone were unaccounted for. Meanwhile according to Civil Defense administrator Benito Ramos stated that there were 18 people drowned in the province of Negros Oriental.
Government authorities have sent more than 20,000 soldiers to the affected areas. In Cagayan de Oro City alone there were more than 20,000 residents displaced.