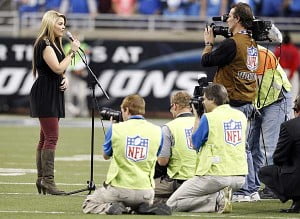 Former Idol contestant, Lauren Alaina has been in the spotlight after she forgot the lyrics of America's national anthem when she sings it during the match of Detroit Lions versus Green Bay Packers.
Thousands of Fans that were present during the game became silent for a couple of seconds after Alaina has stopped singing the "The Star Spangled Banner" signaling that she forgot the lyrics of the national anthem.
The 17 year-old "American Idol" runner up has managed to finish singing the national anthem though she messed up at the middle of the song.
Feedbacks and comments started to spread after Alaina's performace were some are criticizing the singer and others expressing their sympathy saying that it is not easy to sing in front of a large crowd.
Lauren has expressed her disappointment over what happened and ask for apology to the people. She posted in her official twitter account addressing to co-idol Kellie Pickler that she is just a human and sometimes commit mistakes.
Alaina also added that at least she managed to finish singing the national anthem and did not fall into the stairs just like what happened to her during American Idol contestants' house.
To those fans who have showed support to her and did not judged her, Lauren has acknowledge them by thanking for their kind words that they have said but still she claimed that she messed up her performance.
Trying to close the issue, Alaina posted in her account suggesting that rather than thinking about what happened its better to thank all the blessing that she received for the spirit of Thanksgiving Day.