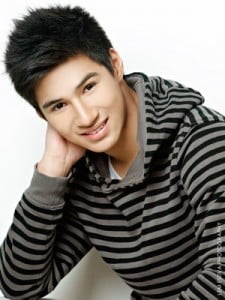 A child is always a blessing!
Now that it's official, the awaited confirmation of Andi Eigenman's pregnancy is out. The next question that is playing in the minds of the people may it be critics or supporters is who must be the father of her child.
Recently, two names were being (–foul word(s) removed–)ociated to Andi. Names that had added color to her showbiz career and had put her in the top of entertainment news.
With the explosion of the pregnancy news that had started as blind items may it be on tabloid, entertainment news program and even to Facebook and Twitter, it could not be denied that the names of Albie Casino and Jake Ejercito are being drag to the story.
On a tweet posted by Albie's mom, she said that their family is neither denying nor confirming that Albie is the father of the child Andi is bearing.
Reading between the lines of the statement said by Jaclyn Jose, Andi's mother, she said that the father is Andi's first sweetheart who happened to dump her after knowing that they will be having a baby soon.
Another name that is being drag is Jake Ejercito who is the son of the former President Joseph Ejercito Estrada. He also broke his silence via Twitter. Quoted, he had stressed that the public must not jump to conclusion.
"I'd just like to ask everyone not to jump into conclusions and misinterpret what has been said. I am not Andi's first boyfriend. Let us just respect and pray for her, her baby, and family," he said.
Whoever is the father, he further said that all must pray for the baby.
Aside from the big question of who must be the father, talks about Andi to leave "Minsan Lang Kita Iibigin", her TV drama show is also circulating. Rumours said that her character "Gabriel", the female soldier will be removed from the show. Contrary to all those rumours, it was said that Andi will still be part of the said show especially that it will be ending very soon.
After this turning point event in Andi's life and career wherein she is already reaching her star, Jaclyn, her mother, says that she is hoping that when everything will be fine, the industry will still give Andi another chance.