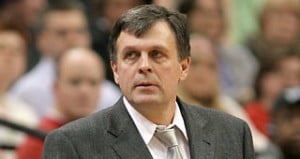 Kevin McHale has chosen to be the next coach of the famous NBA team the Houston Rockets.
Mr. McHale, 53, was a former Minnesota Timberwolves executive and was given the offer to play the role of coach twice but just recently accepted it.
The NBA club has been offering McHale for about how many months now to replace the coach of Houston Rockets, Rick Adelman, after a not satisfying performance last season giving only a 43-39 figure not including the playoff berth. The club has already confirmed last Friday that Kevin McHale has already accepted the offer.
Yao Ming, the famous Chinese star and center of the team Houston Rocket is expected to return this season after he wasn't able to play in five games last season due to a broken leg. Being part of the team, Yao Ming must expect that he will be under the coaching of NBA star big man, Kevin McHale when he returns to the court.
Boston Celtics has been the team of McHale for 13 seasons where he has worked with one of the NBA legendary player, Larry Bird. Together as a team, Bird and McHale work hand and hand and was able to won three NBA titles in the 1980's. McHale days in the court gave him multiple awards including the Two times Sixth Man of the Year as top reserved.
After he has retired as a basketball player, McHale still continues his p(–foul word(s) removed–)ion in basketball by managing a club at the stat of the season. This was his first time after his experience as a temporary coaching stint with the Minnesota.
At the end of 2004-2005 seasons, McHale was able to get a 19-12 stat as an interim coach after he replaced Flip Saunders in the Timberwolves.
Timberwolves ownership has approach McHale again to return to a coaching job after the 2008-2009 campaign but suddenly removed again in the next season after he went to 20-43.