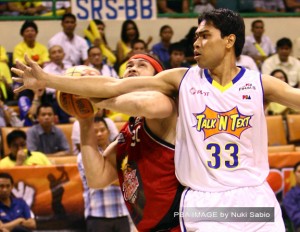 Barangay Ginebra stays alive as they won against the Talk 'N Text last night with a score of 100 over 93 in their best of seven series for the PBA Commissioner's Cup at the Araneta Coliseum.
Ginebra being desperate to repeat the most remarkable comeback ever in league history cut's down the Tropang Texters series lead to 3-2 as they won last night.
Shortly after the win of Ginebra, coach Uichico was interviewed and he said with an un(–foul word(s) removed–)uming tone that they just stayed alive and he wants to take the win at a face value and nothing more.
He also added that what they just did was get the job done for today but nothing to celebrate for now because it's too hard to look forward to in winning this series but he said they are happy they won the match last night.
Among the players who lead the Ginebra to win last night was Nate Brumfield who came out and scored 26 points and Mark Caquioa in his usual deadly self, contributed 20 points to a furious finish that had Ginebra breaking away.
Ginebra is now trying to do the same thing back in 1991 third conference in which they had a 1-3 come back against the defunct Shell but Uichico said that he was nothing about it and added that they cannot look too far ahead.
What the Tropang Texters showed last night was far from what coach Chot Reyes said that they need to wrap up this series.
He even described his team as mediocre after they were held to just 38 in the first half points and trailed by 10 at the start of the third but they got short and wasn't not able to win the game.
Reyes said with disgust after the game that Nate Brumfield showed today why he is the best important in this series. "Nasa Luneta yata and mga players ko namamasyal (Maybe our players were on a stroll at the Rizal Park)" Chot added.
Ginebra turned bad Talk 'N Text plays into precious baskets in the homestretch, with a Mike Cortez triple off a broken play at the 1:13 mark handing the Kings a 98-90 lead.
Chot Reyes said that what made them lose the game was the Big difference for them with the two guard and their rebounding in the game was badly off the boards. He said that they gave Ginebra too many possession and they had just four fastbreak points.