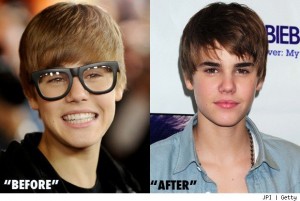 How costly, isn't it? But who would not imagine that the signature hairstyle of this young singing sensation 16-year old lad looks made him popular more than ever beyond his voice? Many girls have been impressed, well, which made him capture everyone's attention, thus, made them avid fans of Justin Bieber.
Justin Bieber's mop-top hairstyle doesn't only talks about of his personality of being a star; it is even the first procure of anyone who cares so much about someone's hair. Of course, keeping his iconic coif means maintaining it; and to do it, JBieb's hairstylist Vanessa Price is on-hand.
Price says that she usually cuts Justin's hair every couple of weeks when the kid is on tour; and not to forget, she charges him around $750 every time she makes a house call to trim his infamous 'do.
The superstar's signature hairstyle consists of brushed forward bangs; and most kids across the country are fanatic of his haircut. Fortunately, they can get JBieb's trendy look for just about $14. That's a good news for some guys out there who wants to be like Justin.
Well, this haircut doesn't suit any girls, especially, like me. 🙂
Justin Bieber Hair Style Video
[youtube]http://www.youtube.com/watch?v=fq9Iu640hy4[/youtube]