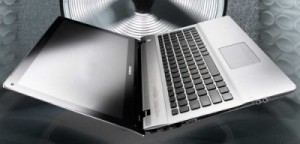 The Samsung QX410 came with very good features and very affordable price of $799, which is impressive. The laptop features a Core i5 Processor and NVIDIA GeForce 310M GPU with Optimus. It has 640 GB hard drive storage space and it is equipped with 4 GB in RAM and 5400rpm hard drive. The QX410 is made of a flush gl(–foul word(s) removed–) screen of 14 inches and only one inch thickness with an elegant grey aluminium lid. Moreover, you can stream video on your television using Intel WiDi. The resolution of the display is 1366 x 768 with edge-to-edge screen. A video recording of 720p looked very crispy and bright in it. The battery life of the Samsung is 4 hour and 45 minutes, which is very impressive. The laptop is equipped with WiFi connection and an embedded WiMax modem.
Samsung QX410 is the first laptop along with ASUS U33jc to use Intel WiDi with a discrete GPU. The use of silver aluminum on the lid and the keyboard just give the Samsung QX410 a very good feeling. Not only that, it is very light and thin with 1.07 inches and 5.07 pounds, which make it slimmer than the Dell XPS 14 and lighter than the Envy 14. The laptop is well equipped with ports such as Ethernet, headphone, VGA, HDMI and microphone ports adding to that the USB jacks. The keyboard keys feel very good while typing, but there are no back lights. The Samsung has a Synaptics ClickPAd that is so far better than any other single touchpad buttons in Dell or HP. The pad is made of metal and gives a very smooth feeling. The response to the two finger scrolling was also very good while using multitouch gestures. The speakers of the Samsung QX410 are good to listen to music but still the Dell XPS 14 is much better, especially when watching a movie or playing games. The performance of the processor is fine since you can multitask very easily; you can listen to music, open Facebook, and write in Word Starter 2010 at the same time.
The Samsung QX410 worth $799 is certainly a great deal with the impressive features with it. The keyboard is very good and smooth, the battery is just awesome, it looks very svelte and light, and the laptop performance is fast.